What You MUST Know About Buying Your Next Home:
It might surprise you to know one of the first things most home buyers ask me, is… "What are all the steps involved with buying a home? I want to be prepared for all the things I'll need to do."
And this is a great question. Because the truth is, since buying a home isn't something you do very often, even if you've done it once or twice before… you simply can't remember "everything" that's involved.
So if you're planning on buying a home, read through and print out this Official Guide to Buying Your Next Home, Without Any Stress
I would also encourage you to read my Special Report for Home Buyers:
The 21 Most Critical and Costly Mistakes Buyers Make When Shopping For a Home or Trading Up To A Larger Home
If you have any questions about anything on this list, feel free to contact me.
Once you've received a pre-approval for your mortgage, do not make any large purchases, apply for any credit cards, or withdraw large amounts of money from your accounts
Doing any one of these things may throw off certain ratios your lender used to get you pre-approved for your loan, in the first place. In many cases, changing these ratios can wind up disqualifying you for this same loan…
Find a reputable lender or mortgage broker and make sure you get pre-approved for a home loan or mortgage
I can make some recommendations to you, if you need them. And just so you know, I have no affiliation with any mortgage company and I don't receive any kind of compensation for referring any particular lender or mortgage broker to you. I have no financial interest or incentive for you to work with anyone in particular. That being said, having a competent person in this position can often make or break your ability to qualify for a loan, get the best terms available, and close on time…
I will then set you up on my "Automatic Home Discovery List."
This is a list of properties which match your criteria (along with pictures of the properties), that are automatically emailed to you as soon as they become available for sale on the MLS.
This list will be generated and emailed to you daily – any time additional homes are listed for sale, which meet your specified criteria.
Appreciate that if you see properties on the list that you are interested in… it's in your best interests to let me know about it, immediately… so I can set up a showing for you to visit the property, as soon as possible. In this marketplace, it is much better to be a few weeks too early… than even one minute too late! This is truly an "early bird catches the worm" market…
Fine tune your "Automatic Home Discovery List"
Once you start seeing properties, you might want to change your mind about what you want, or change your location. That's totally fine and somewhat expected as you begin to narrow down and prioritize things that become more important to you. All you need to do is let me know and I'll have my assistant revise your "Automatic Home Discovery List" selection…
Once you find a property you like, let me know and I will work with you to come up with a fair and reasonable offer. I will then submit your offer to the seller's agent…
The seller will either accept your offer, decline it, or come back with a counter offer. I will work with the seller's agent, going back and forth to negotiate an offer and contract terms that are ultimately acceptable to you…
Sign your contract once terms are agreed upon and make the escrow deposit to the title company. It is very important you make your escrow deposit on time, and for the correct amount of money.
Not doing this can cause you to lose the home you worked so hard to find, and come to mutually agreeable terms on…
Depending on what kind of financing you are applying for, you or your lender will need to schedule a home inspection, to determine what condition the home is in, and what kinds of repairs are needed. You may also need to set up a termite inspection, depending on the property.
Make sure you get your property inspection set up quickly, within the terms of the "inspection period" of your contract. This way, if you wind up walking away from the contract because the inspection report revealed more issues than you're willing to accept… you will still get your full escrow deposit back…
Based on the outcome of your inspection, you might want to re-negotiate your contract. There are several things that can happen here, and you can pick and choose how you want this to play out. I can go back to the seller and ask them to make some of the repairs which came up on your inspection report… or ask the seller to offer you a financial concession instead of making the actual repairs. Or, if the house needs more work than you're willing to deal with, as I said… you can completely walk away from the contract and get your full escrow deposit back, as long as your inspection was done during the terms of your "inspection period", which is on your contract.
If you decide to move forward and buy the property, at this point… your lender will begin the process of getting your loan. They will ask you for some paperwork in order to complete the underwriting… get you final approval… and then fund your new home mortgage. The lender will also coordinate this with the title company. Obviously, if you are a cash buyer and not taking out a mortgage, this step and the next two steps are omitted…
In most cases, your lender will then order an appraisal of your property. They want to make sure the amount of the loan is within a certain percentage of the current fair market value of the property, based on their own independent calculations…
Once the financing of your loan is approved, a closing date and time will be scheduled…This is typically the date on the contract which has been agreed upon at signing.
The title company will coordinate with you, how you want to fund the balance of any deposit/down payment that is still outstanding. By the way, closing can take place either at the title company's office, or they can do a mobile closing and come to your home or office…
Pick up the keys to your new home…
Find a Realtor to represent you,

If you need some guidance finding a realtor, I would encourage you to read my Special Report,

The 7 Biggest Mistakes Homeowners Make When Hiring A Realtor

. The report it typically geared to home sellers, but the information about finding a realtor applies equally to both buyers

and

sellers.

If you decide to work with me, we'll meet in person to discover what you're looking for, and maybe even more important, what you

aren't

looking for. I'm incredibly busy, and I assume you are, as well. And the last thing I'd want to do is waste time showing you homes you really have no interest in. So discussing both of these categories (what you like, and what you don't like) is equally important…

Congratulations, time to celebrate!
Thank you for reading this.
I'm looking forward to helping you sell buy home, and if you have any questions, contact me and I'll be happy to get you answers.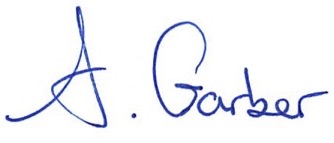 Anne Garber
P.S. Again, make sure you read through my Special Report for Home Buyers:
The 21 Most Critical and Costly Mistakes Buyers Make When Shopping For a Home or Trading Up To A Larger Home
Also check out my "No Rubbish" Guarantee. This makes dealing with me a no-brainer for most home owners