What You MUST Know About Selling Your Home:
One of the first things most home sellers ask me, is… "What's the exact process of selling my home? I want to know ahead of time, all the things I need to do."
And this is a great question. Because the truth is, selling a home isn't something you do very often. So even if you've done it once or twice before… you simply can't remember everything that's involved.
So if you're planning on selling your home, read through and print out this Official Guide to Selling Your Home Quickly & Easily.
If you have any questions about anything on this list, feel free to contact me.
Make the decision to sell your home. Make sure everyone who is on the title of the home, is also in agreement about selling the property…
Choose a Realtor to help you sell your home
I'd be happy to help you sell your home, but either way… I'd encourage you to read my Special Report, The 7 Biggest Mistakes Homeowners Make When Hiring A Realtor
This will help you choose your agent and feel confident about your decision.
Decide on your initial listing (selling) price
If we are working together, I will help you determine the best price to list your home for. My role is to help you objectively compare the price, features and condition of your home, to other similar homes in your area.
And yes, while it's important to look at the homes that sold… but it's also important to look at the ones that didn't sell. And then find out why they didn't sell. I'm always getting on the phone with other agents to find out why a property didn't sell or what kind of circumstances they had to deal with, which might have made selling a particular property, more challenging.
Keep in mind, the terms of each potential sale are sometimes just as important as price, in today's market…
Sign a listing agreement
When I work with clients, we sign what's called an "Exclusive Right of Sale Listing Agreement." This is the standard listing agreement used in the industry. In a nutshell, this agreement defines our relationship and gives me, or any other agent you might work with, a six month exclusive right to sell your property.
But since the last thing I ever want is for you to feel uncomfortable or to feel like you're "stuck" with me, simply because you signed an agreement… I do things a little differently.
Meaning, in the unlikely event you're unhappy or dissatisfied with my performance… or if you're not absolutely delighted with my service…
Then just let me know and we'll tear up our "exclusive" agreement
In other words, if I don't deliver, you owe me nothing – including the obligation to continue working with me.
This makes dealing with me a no-brainer for most home owners. In fact, my Seller's No-Risk Guarantee, and 7-Point Guarantee make me uniquely different, in a world where one realtor is basically no different from another. Feel free to click on these links to see these two guarantees, in writing.
Figure out what you need to do, to make your home "show ready"
I will typically meet with my sellers, at their home. This is a relaxing "no stress" and certainly no sales pressure meeting. We will talk about a number of things related to selling your home, and I will answer any questions you have.
During this time, I also do a Free, 3-Step Home Valuation Audit which helps you get a handle on how I can help you, and the steps you need to take, to make your home "show ready."
This 3-Step Home Valuation Audit is a free service, and there is absolutely no obligation on your part to do anything after this. Again, no hassles, and absolutely no cheesy "sales pitch" or anything like that.
If we wind up working together, great. And if we don't wind up working together… that's totally fine, also.

You can expect 3 things from the outcome of this 3-Step Home Valuation Audit:

1. A Recommended Listing Price (RLP) for your home. This is the starting point for what ultimately becomes your actual listing price in Step #3 on this list…

2. A list of local properties that are similar to yours – along with what they recently sold for. This way, you can get some sense of what the market is like, and part of my basis for coming up with your RLP. Plus…

3. Preliminary suggestions on the kinds of improvements you might want to consider making, and the things you'll want to do to make your home "show ready." These improvements may add value and either support or increase your home's listing price…I also have a Special Report called 26 Inside Secrets To Getting Your Home Sold Fast and For Top Dollar that explains, in layman's terms, the typical repairs and improvements you'll want to focus on, to make your home "show ready."

This report is not available on my site. I'll give it to you, and go over it with you, during your 3-Step Home Valuation Audit…

De-clutter and do the actual repairs needed. If you're on a budget, I can help you by suggesting the order of priority for these repairs…
At this point, if you wanted me to sell your home as your real estate agent, I would add your property to my listings on the MLS
More than anything else, the MLS allows your property to get in front of the most number of pre-qualified and currently interested buyers…
Put a lock box on your home or let me know appropriate showing times
The more flexible you are with having your home available to show, the more traffic you will get. That being said, if you can only show the home at certain times, so be it. Either way, we'll make it work for whatever suits you best, and I'm happy to give you input here…
Start showing your home to interested buyers!
I would encourage you not to exchange anything more than pleasant greetings with any interested buyers during any of these showings. If they ask you questions – unless you are 100% sure of the answer ("When was the roof last replaced?"), simply say "I don't know, but I will find out and have Anne get back to your agent with the information…"
As long as you don't live in an area where there is a homeowners association that prohibits it, I would definitely want to have a For Sale sign placed in your front yard
You'd be amazed how many times "traffic" that just happens to be passing by and sees this sign, that might be interested in buying your property. People who are already living in, or near a particular area, are often the most likely people to want an upgraded property in that same area. Seeing a For Sale sign, they will often pick up their phone and call a friend they know, who wants to move into their same area…
Review incoming offers.You can either accept an offer, make a counter offer, or just flat-out decline the offer altogether. With regards to a counter offer, you can counter on both price and / or on terms. I will go over each of these things with you, based on the offers we receive. I will let you know the options available to you, and you can choose the one you are most comfortable with. I will also be happy to give you my professional opinion on any offers you receive. I will then go back and forth with the buyer's agent, until we can come to an offer that is acceptable to you…
Accept and sign off on your final offer.
You will then need to pick a title company. I can make some recommendations to you, if you need them. And just so you know, I have no affiliation with any title company and I don't receive any kind of compensation for referring any particular title company. I have no financial interest or incentive for you to work with any particular title company, or mortgage company…
Confirm that the buyer has deposited the correct amount of escrow with the title company. I will make sure this is taken care of, and believe me… you'd be amazed how many times this step is missed by agents. The problem is, if this is ignored, and then the buyer bails on you… you have no deposit to collect from them…
The buyer will then schedule an independent home inspector to come over to evaluate your home and a termite inspector. I will coordinate this with you, to make sure someone is available to let the inspectors in, at a time that's convenient for you…
Based on the outcome of this inspection, the buyer might want to re-negotiate their contract.

This is allowed because virtually all offers are "contingent upon inspection results."

At this point, there are several things that can happen here. The buyer might ask you to make some of the repairs which came up on their inspection report. Or, they might ask you to offer them a financial concession instead of making the actual repairs. Or, if the house needs more work than they're willing to deal with, they are within their rights to completely walk away from the contract and get their full escrow deposit back… as long as their inspection was done during the terms of the "inspection period," which is defined in the contract.This is why it makes sense to take care of, or at least be prepared to take care of, any significant repairs you're aware of… ahead of time.I'll work with the buyer's agent at this point, to figure out what modification to the contract, if any, will be acceptable to both you and the buyer.
Once the final terms of the agreement have been determined, the title company will research the property to make sure you have a "clean title" (no liens on the property, etc.)

They will also order a property survey…

Around this same time you will have to provide the title company with information on any mortgages or loans you have, that are secured by this property
This allows them to calculate things like loan payoff amounts, and any mortgage interest or property taxes due at closing…
In most cases, the buyer's lender will then order an appraisal of your property
This is done because the new (buyer's) lender wants to make sure the amount of the buyer's loan is within a certain percentage of the current fair market value of the property, based on their own independent calculations…
Once the buyer's loan is approved, a confirmed closing date and time will be scheduled, usually on, or close to the date on the contract. I will obviously let you know when this closing date is, as soon as I hear…
Closing can take place either at the title company, or they can do a mobile closing and come to your home or office.

Net proceeds from the sale can either be wired directly into your bank account, or you can receive a check. Just let me know and I will let the title company know which you prefer…

Congratulations, time to celebrate!
Thank you for reading this.
I'm looking forward to helping you sell your home, and if you have any questions, contact me and I'll be happy to get you answers.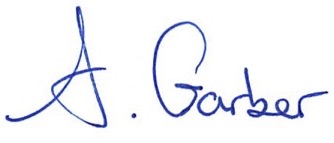 Anne Garber
P.S. Again, make sure you read through my Special Report for Home Sellers:
The 7 Biggest Mistakes Homeowners Make When Hiring A Realtor
And make sure you check out my two, Zero-Risk Homeowner Guarantees. This makes dealing with me a no-brainer for most home owners: